Nominate today for a chance to win a trip to the Giants of Cancer Care® Winners Reception in Chicago, 2018!
This includes one round trip airfare* and a one night stay at a hotel of OncLive's choosing. Individuals may nominate as many times as they wish, but may not nominate the same physician more than once in a single category. Each nomination for a different oncology specialist will count as a new entry into the raffle. Giants of Cancer Care® Advisory Board members, Selection Committee members, or employees of Michael J. Hennessey Associates may not enter the raffle.
Click
here
to nominate your 2018 Giant!
*Ticket will be purchased in coach class only.
Congratulations to the 2017 Giants of Cancer Care® Inductees!
OncLive® is proud to announce the inductees of the 2017 Giants of Cancer Care® recognition program. This year, 12 respected healthcare professionals who are advancing the field of oncology by their contributions in research and clinical practice were inducted. The winners were announced on June 1 during an exclusive celebration at the Chicago History Museum.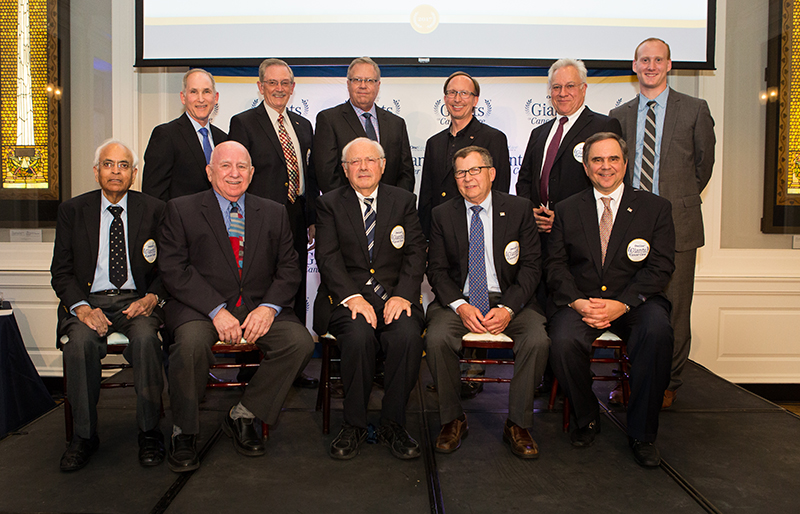 Standing (left to right): *Charles S Fuchs, MD, *David R. Gandara, MD, Patrick I. Borgen, MD (Chair, Giants of Cancer Care
®
Advisory Board), *Thomas F. Gajewski, MD, PhD, *John M. Kirkwood, MD, and Robert Goldsmith (Vice President, Oncology Specialty Group).
Seated (left to right): *Kanti R. Rai, MD, *Joseph V. Simone, MD, *Norman Wolmark, MD, *Hyman B. Muss, MD, and *Daniel P. Petrylak, MD
*2017 Inductee
Here
is the complete list of winners. Click on their names for biography information