Congratulations to the 2017 Giants of Cancer Care® Inductees!
OncLive® is proud to announce the inductees of the 2017 Giants of Cancer Care® recognition program. This year, 12 respected healthcare professionals who are advancing the field of oncology by their contributions in research and clinical practice were inducted. The winners were announced on June 1 during an exclusive celebration at the Chicago History Museum.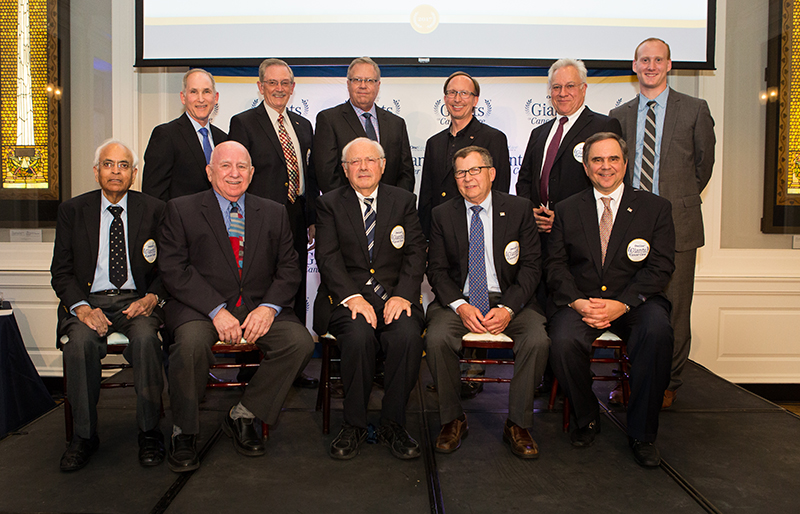 Standing (left to right): *Charles S Fuchs, MD, *David R. Gandara, MD, Patrick I. Borgen, MD (Chair, Giants of Cancer Care
®
Advisory Board), *Thomas F. Gajewski, MD, PhD, *John M. Kirkwood, MD, and Robert Goldsmith (Vice President, Oncology Specialty Group).
Seated (left to right): *Kanti R. Rai, MD, *Joseph V. Simone, MD, *Norman Wolmark, MD, *Hyman B. Muss, MD, and *Daniel P. Petrylak, MD
*2017 Inductee
Here
is the complete list of winners. Click on their names for biography information
Nominations for the 2018 class of inductees have already begun. If there is someone who has mentored you, made advances furthering the quality of life for patients, or even participated in developing curative therapies, make sure you submit their name. Click
here
to nominate your 2018 Giant!