Giants of Cancer Care® Program Inductees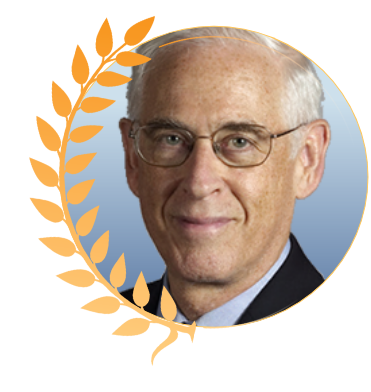 DRUG DEVELOPMENT
John Mendelsohn, MD✝
The University of Texas MD Anderson Cancer Center
John Mendelsohn, MD, is a professor in the Department of Genomic Medicine, Division of Cancer Medicine, at The University of Texas MD Anderson Cancer Center, and a faculty member at the Graduate School of Biomedical Sciences.
Shaped 3 major cancer centers throughout his career as the founding director of the NCI-designated cancer center at the University of California San Diego in 1977, as chairman of Medicine for 11 years at Memorial Sloan Kettering Cancer Center, and as president of The University of Texas MD Anderson Cancer Center from 1996 to 2011.
Gained an international reputation for his research on how the binding of growth factors, particularly EGFR, to cell-surface receptors regulates cell functions.
Conducted research that led to the production of monoclonal antibody 225, developed commercially as cetuximab (Erbitux), which was approved by the FDA for treatment of colon cancer in 2004 and for head and neck cancer in 2006.
Recognized with many awards including the Dorothy P. Landon AACR Prize for Translational Cancer Research from the American Association for Cancer Research in 2008.
Back to 2016 Inductees
Home
)
SUPPORTED BY