Giants of Cancer Care® Program Inductees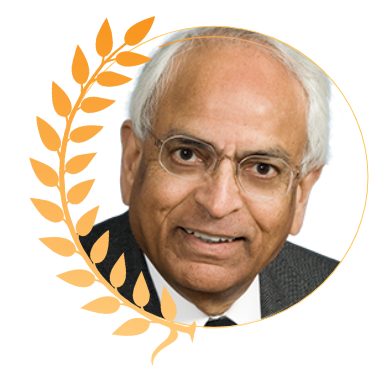 HEMATOLOGIC MALIGNANCIES
Kanti R. Rai, MD
North Shore University Hospital – LIJ/ The Feinstein Institute for Medical Research
Kanti R. Rai, MD, is professor of medicine at The Karches Center for Oncology Research, The Feinstein Institute for Medical Research; director of the Center for Oncology and Cell Biology, Long Island Jewish Medical Center; and professor of medicine and molecular medicine at Hofstra University Northwell School of Medicine.
Dr Rai has been involved in diagnosing and treating chronic lymphocytic leukemia (CLL) for almost 40 years. The staging system that bears his name came out of his early breakthrough research; his publication of the "Rai" prognostic categorization of CLL in the journal Blood in 1975 is a landmark article still used by physicians and clinical investigators.
His research led to the eventual development of idelalisib (Zydelig) as a second-line treatment for patients with CLL and ibrutinib (Imbruvica), a Bruton tyrosine kinase inhibitor, used to treat mantle cell lymphoma, CLL, and Waldenström macroglobulinemia.
He has been collaborating with Nicholas Chiorazzi, MD, and other CLL scientists at The Feinstein Institute for years. Their shared commitment has made its mark in the field, especially by establishing the importance of fludarabine, now a standard-of-care treatment for CLL, and demonstrating the effectiveness of cladribine in treating hairy cell leukemia.
Dr Rai is an active investigator in the Chronic Lymphocytic Leukemia Research Consortium, the International Workshop on CLL, and Cancer and Leukemia Group B. He is a member of the American Society of Clinical Oncology, the American Association for Cancer Research, and the American Society of Hematology (ASH). In 2006, Dr Rai served as president of ASH.
Back to 2017 Inductees
Home
)
SUPPORTED BY