Giants of Cancer Care® Program Inductees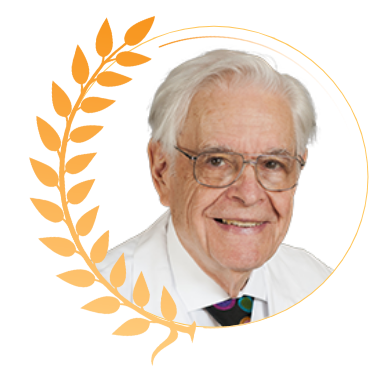 RADIATION ONCOLOGY
Herman D. Suit, MD, MSc, PhD
Harvard Medical School/Massachusetts General Hospital
Herman D. Suit, MD, MSc, PhD, is the Andres Soriano Professor of Radiation Oncology, Emeritus, at Harvard Medical School, and chief of radiation oncology at Massachusetts General Hospital.
In the 1970s, Dr Suit, chief of Radiation Oncology at Massachusetts General Hospital, helped revolutionize chordoma treatment by pioneering the use of radiation as adjuvant therapy. He was chief of the department from June 1970 through October 2000.
His research focuses on the origin of the cells that form the capillary structure which supports the regrowth of tumor after radiation; assessing the proportion of patients with distant metastases and local regrowth of tumor whose distant metastases arise from the regrowing tumor; and on time distribution of radiation-induced neoplasms as function of radiation dose and of chemotherapeutic agents.
His interest in studying the role of radiation for mesenchymal tumors demonstrated that a wide spectrum of human tumor lines had similar radiation sensitivities, suggesting that sarcomas might not have different inherent sensitivities.
Dr Suit has authored more than 400 peer-reviewed articles, co-founded 2 cooperative oncology groups, served as president of both the American Society for Radiation Oncology and the Radiation Research Society, and has been recognized with numerous awards. Dr Suit has been a vibrant leader in radiation oncology and cancer research for over 5 decades.
Back to 2017 Inductees
Home
)
SUPPORTED BY