Giants of Cancer Care® Program Inductees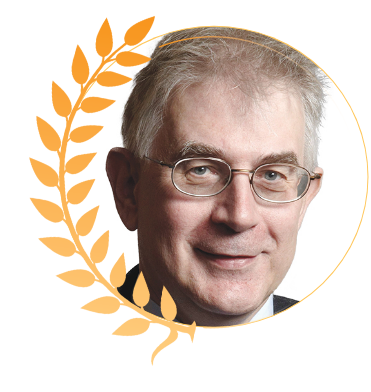 BREAST CANCER
George W. Sledge Jr, MD
Professor, Medicine and Oncology, and Chief of the Division of Oncology, Stanford University Medical Center
George W. Sledge Jr, MD, specializes in breast cancer treatment and has worked extensively to employ bioinformatics to improve the understanding and prediction of disease.
Dr. Sledge directed the first large nationwide study (ECOG 2100) on the use of paclitaxel to treat advanced breast cancer.
He has served as president of the American Society of Clinical Oncology (ASCO), as a member of the National Cancer Institute's (NCI's) Clinical Trials Advisory Committee, and as a member of the FDA's Oncologic Drugs Advisory Committee.
As chair of the ECOG Cancer Breast Committee, he oversaw the development of several important phase III trials, including the TAILORx trial being presented at this year's ASCO plenary session.
His research led to the development of CLEVER, a biomedical informatics tool that can identify distant metastatic relapse and locoregional relapse with high accuracy. Investigators will use this expanded bioinformatics approach to characterize the patterns and predictors of disease-free and overall survival among women with metastastic breast cancer. Dr. Sledge has published over 350 scientific articles spanning both laboratory and clinic.
Back to 2018 Inductees
Home
)
SUPPORTED BY