Giants of Cancer Care® Program Inductees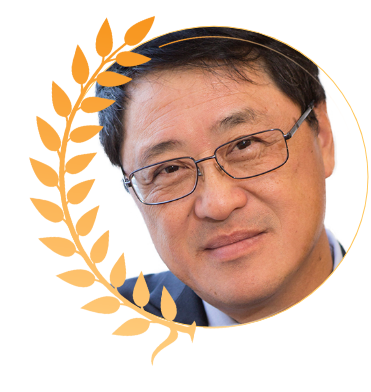 IMMUNO-ONCOLOGY, INCLUDING CELL-BASED THERAPIES
Lieping Chen, MD, PhD
Codirector, Cancer Immunology Program, Yale Cancer Center
Lieping Chen, MD, PhD, has been integral to the discovery of the PD-1/PD-L1 pathway and its immune-suppressive functions.
Dr. Chen has established himself as an expert in the field of lymphocyte costimulation and coinhibition and the use of this knowledge to battle cancer.
He and his laboratory are credited with the codiscovery of the PD-1/PD-L1 pathway. More important, his laboratory performed foundational work that led to the invention of new immuno-oncology therapy. These works include understanding of the PD-L1 expression in tumor microenvironment as an escape mechanism from immune attack and the proof-of-principle experiments of anti–PD-1/PD-L1 antibody therapy.
He also pioneered the first in-human trial of an antibody blockade of the PD-1/PD-L1 pathway, which involved nivolumab (Opdivo), and he invented the PD-L1 staining to predict the outcome of treatment. Anti–PD-1/PD-L1 therapy has since been employed against a broad spectrum of at least 25 types of cancer.
Many other important pathways have been identified in Dr. Chen's laboratory, including 4-1BB, ICOS/B7-H2, B7-H3, B7-H4, B7-H5/CD28H, PD-1H, LIGHT/HVEM, TROY, B7-H2/CD28/CTLA-4 (human), and SALM5/HVEM.
Back to 2018 Inductees
Home
)
SUPPORTED BY