Giants of Cancer Care® Program Inductees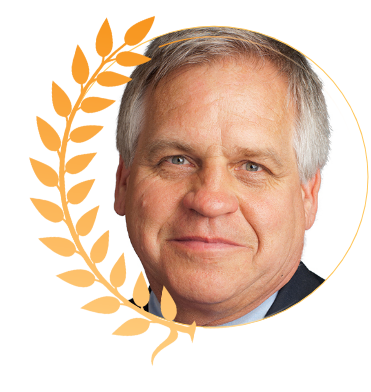 LUNG CANCER
Bruce E. Johnson, MD
Chief Clinical Research Officer, Professor, Medicine, Dana-Farber Cancer Institute/Harvard Medical School
Bruce E. Johnson, MD, is a noted lung cancer physician–scientist who serves as chief clinical investigator at Dana-Farber Cancer Institute.
Dr. Johnson's laboratory collected tumor cell lines from women with adenocarcinoma who either did or did not smoke cigarettes and characterized their response to gefitinib (Iressa). He and his colleagues discovered that most patients who have a clinical response to the treatment have either point mutations or deletion of amino acids from the EGFR tyrosine kinase domain.
The investigators showed that lung cancer cell lines with epidermal growth factor cell lines with these point mutations or deletions are 100-fold more sensitive to treatment with gefitinib than cell lines with EGFR wild-type disease.
Winner of the 2009 Scientific Award from the International Association for the Study of Lung Cancer, Johnson was one of the recipients of the American Association for Cancer Research Team Science Award given to the Dana-Farber/Harvard Cancer Center Thoracic Oncology Research Team in 2010.
Dr. Johnson is the institute physician at Dana-Farber Cancer Institute and a professor of medicine at Harvard Medical School. He leads the Lung Cancer Program of the Dana-Farber/Harvard Cancer Center.
Back to 2018 Inductees
Home
)
SUPPORTED BY