Giants of Cancer Care® Program Inductees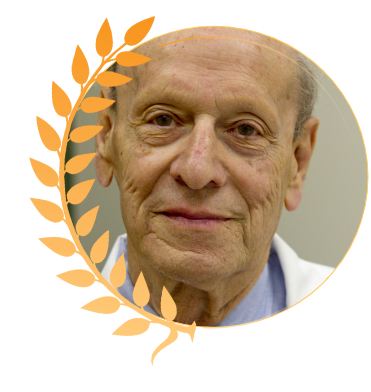 LYMPHOMA
Saul A. Rosenberg, MD✝
Maureen Lyles D'Ambrogio Professor Emeritus, Stanford School of Medicine
Saul A. Rosenberg, MD, is a pioneer in the use of curative chemoradiation to treat patients with Hodgkin lymphoma and helped launch the medical oncology field at Stanford
Along with the late Henry S. Kaplan, MD, Dr Rosenberg conducted some of the first randomized clinical trials in cancer. Their findings showed that treatment for Hodgkin lymphoma could be curative, rather than strictly palliative, and established total lymphoid irradiation as the standard of care in early-stage disease for decades.
His research determined that the addition of chemotherapy allowed physicians to reduce exposure to radiation while maintaining efficacy.
Starting in the 1960s, Dr Rosenberg helped to establish medical oncology as a discipline; Stanford was one of the first institutions in the nation with a division of medical oncology that included both oncologists and hematologists. He was chief of that division from 1965 to 1993.
He served as the American Society of Clinical Oncology (ASCO) president from 1982 to 1983 and as chair of the medical oncology subcommittee for the American Board of Internal Medicine.
ASCO honored Dr Rosenberg in 1984 with the David A. Karnofsky Memorial Award and Lecture and named him an ASCO fellow in 2007. Other honors include the 2004 Karl Musshoff Prize from the German Hodgkin Study Group.
Back to 2019 Inductees
Home
)
SUPPORTED BY