Giants of Cancer Care® Program Inductees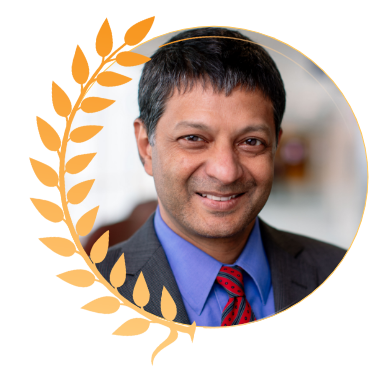 MYELOMA
S. Vincent Rajkumar, MD
Edward W. and Betty Knight Scripps Professor of Medicine, Mayo Clinic
S. Vincent Rajkumar, MD, works to develop more effective treatments for patients with multiple myeloma (MM) and understand racial disparities in outcomes.
Dr Rajkumar led the Eastern Cooperative Oncology Group trial that resulted in the FDA approval of thalidomide (Thalomid) plus dexamethasone for the treatment of newly diagnosed MM in 2006. The immune modulator (IMiD) was the first new agent introduced for this patient population in decades and led to the development of more effective, less toxic agents.
He was a principal investigator for the randomized trial that established the regimen of lenalidomide (Revlimid), a second-generation IMiD, plus low-dose dexamethasone for patients with newly diagnosed MM in 2010. The regimen has significantly reduced treatment mortality in myeloma and makes up the backbone of most regimens for the malignancy.
Dr Rajkumar has identified several biomarkers that are used worldwide in the diagnosis and risk stratification of plasma cell disorders. As a result, he led the International Myeloma Working Group in its 2014 revision of Diagnostic Criteria for Multiple Myeloma and Related Plasma Cell Disorders.
In addition to leadership roles at Mayo Clinic, and in the International Myeloma Working Group, Dr Rajkumar chairs the Eastern Cooperative Oncology Group Myeloma Committee, where he helps design and implement national phase III studies. His current research includes trials testing early intervention in myeloma and the clinical development of new drugs.
Back to 2019 Inductees
Home
)
SUPPORTED BY