Giants of Cancer Care® Program Inductees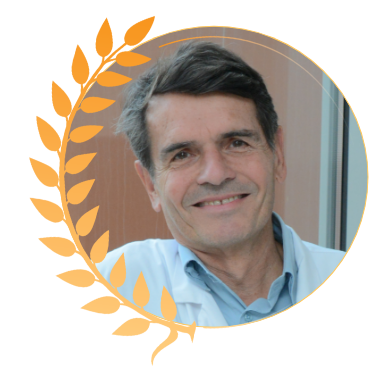 GENITOURINARY CANCER
Bernard J. Escudier, MD
Chair of the Renal Cancer Unit, Institut Gustave Roussy, Villejuif, France
Bernard J. Escudier, MD, has been instrumental in the development of many new therapies for patients with renal cell carcinoma (RCC), including immunotherapies and targeted therapies.
A pioneer in immunotherapy research, Dr Escudier led clinical trials that resulted in FDA approvals for nivolumab (Opdivo) as monotherapy and in combination with ipilimumab (Yervoy) for the treatment for patients with RCC.
His work helped pave the way for the FDA's approval of cabozantinib (Cabometyx) and the European Commission's approval of tivozanib (Fotivda) in RCC, both small molecules that inhibit vascular endothelial growth factor.
For nearly 30 years, Dr Escudier has been a leader in the genitourinary research community. He was the first investigator named to head the inaugural immunotherapy unit at Gustave Roussy in 1992, and he headed the French Group of Immunotherapy from 1992 to 2012. He served as coordinator of the European Society for Medical Oncology (ESMO)'s faculty group from 2012 to 2016 and of the ESMO RCC guideline group from 2012 to 2019.
Dr Escudier also is president of the ARTuR, a French association that provides support to patients with renal cancer and their families and promotes research into renal tumors; coordinator of the ESMO Kidney Cancer Advisory Group, and a board member of the Kidney Cancer Association.
He has published more than 450 peer-reviewed articles.
Back to 2019 Inductees
Home
)
SUPPORTED BY