Giants of Cancer Care® Program Inductees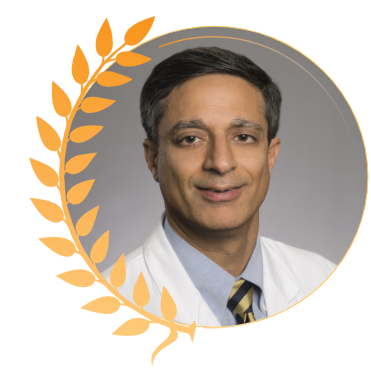 MYELOMA
Sagar Lonial, MD
Emory University/Winship Cancer Institute Atlanta, GA
Lonial is a professor and chair of the Department of Hematology and Medical Oncology and the Anne and Bernard Gray Family Chair in Cancer at Emory University School of Medicine in Atlanta, Georgia. He also is chief medical officer at Emory University's Winship Cancer Institute.
He is internationally recognized as a leading authority in multiple myeloma treatment and research. His research has focused on combinations of novel agents as therapy for myeloma and lymphoma, particularly evaluating combinations that may result in synergistic inhibition of the PI3K/Akt pathway, including daratumumab (Darzalex), the first monoclonal antibody approved to treat multiple myeloma.
Lonial serves as vice chair of the Myeloma Committee in the Eastern Cooperative Oncology Group and cochairs the Steering Committee for the Multiple Myeloma Research Consortium. He is on the board of directors for the International Myeloma Society and is a member of the Scientific Advisory Board for the International Myeloma Foundation. Additionally, he is the myeloma editor for Clinical Lymphoma and Myeloma.
He won a Lifetime Achievement Award for Outstanding Contributions to Hematology-Oncology from the Indo-American Cancer Association in 2017 and the Top 15 Innovator award from the Multiple Myeloma Research Foundation in 2015.
Back to 2020 Inductees
Home
)
SUPPORTED BY