Giants of Cancer Care® Program Inductees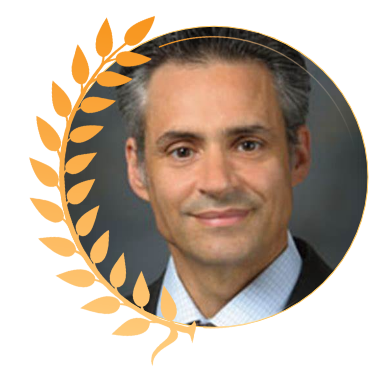 GYNECOLOGIC MALIGNANCIES
Robert L. Coleman, MD
The US Oncology Network
Coleman joined The US Oncology Network as chief scientific officer in March 2020. He previously served as the Ann Rife Cox Chair in Gynecology and a professor in the Department of Gynecologic Oncology and Reproductive Medicine at The University of Texas MD Anderson Cancer Center (MDACC), as well as executive director for MDACC's Cancer Network Research Program. He is also a member of the board of directors for the Gynecologic Oncology Group (GOG) Foundation and codirector of GOG Partners.
He served as the principal investigator (PI) for 2 phase 3 trials exploring novel agents as maintenance therapy for patients with platinum-sensitive recurrent ovarian cancer: GOG-0213 and ARIEL3—the first evaluating bevacizumab (Avastin) and the second evaluating rucaparib (Rubraca). Both agents were subsequently approved by the FDA based on these trial results and are in widespread global use today.
Coleman also led the phase 3 VELIA trial evaluating the role of the PARP inhibitor veliparib (ABT-888) in combination with chemotherapy and in maintenance for women with newly diagnosed advanced-stage ovarian cancer. Results from that trial showed that carboplatin plus paclitaxel and veliparib followed by veliparib maintenance therapy led to significantly longer progression-free survival than carboplatin/paclitaxel alone.
He has also been involved in 3 trials evaluating lymphatic mapping for gynecologic malignancies. Additionally, Coleman was a coproject leader for the MDACC Ovarian Cancer Specialized Program of Research Excellence (SPORE) and the MDACC Uterine Cancer SPORE.
Coleman won the Rosalind Franklin Excellence in Ovarian Cancer Research Award (2018) and is a past president of the Society for Gynecologic Oncology (2015). He is the current president of the International Gynecologic Cancer Society. He also sits on the board of directors for the GOG Foundation and serves as a co-director for GOG Partners.
Back to 2020 Inductees
Home
)
SUPPORTED BY