Giants of Cancer Care® Program Inductees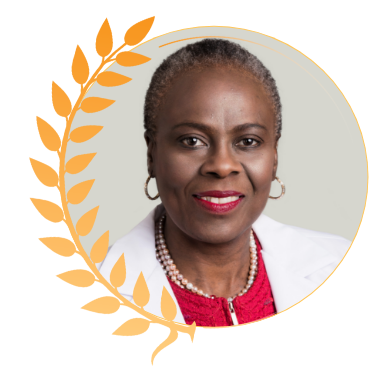 PREVENTION/GENETICS
Olufunmilayo Falusi Olopade, MD
The University of Chicago
Olufunmilayo Falusi Olopade, MD, is the director of the Center for Clinical Cancer Genetics, director of the Center for Global Health, associate dean for Global Health, and the Walter L. Palmer Distinguished Service Professor of Medicine and Human Genetics at the University of Chicago. She is also the founder of the Comprehensive Cancer Risk and Prevention Clinic at the University of Chicago and has served as the clinic's director for nearly 30 years.
Olopade's research has demonstrated that women of African descent are significantly more likely to develop breast cancer at relatively young ages and to develop the aggressive triple-negative form of the disease, which cannot be treated with hormone therapy. Her findings point to the need for women at risk of early-onset aggressive breast cancer across the African diaspora to receive counseling, genetic testing, and personalized screening at younger ages.
The John D. and Catherine T. MacArthur Foundation awarded Olopade with a fellowship, popularly known as a "Genius Grant," in 2005 to further her research into the molecular genetics of breast cancer in African and African American women and her success at translating her findings into innovative clinical practices.
She has also won Villanova University's Mendel Medal and Lecture (2017), the American Society of Clinical Oncology Humanitarian Award (2017), the Franklin D. Roosevelt Freedom from Want Award (2015), Access Community Health Network's Heroes in Healthcare Award (2005), the Doris Duke Distinguished Clinical Scientist Award (2000), and the James S. McDonnell Foundation Scholar Award (1992).
Back to 2020 Inductees
Home
)
SUPPORTED BY