Giants of Cancer Care® Program Inductees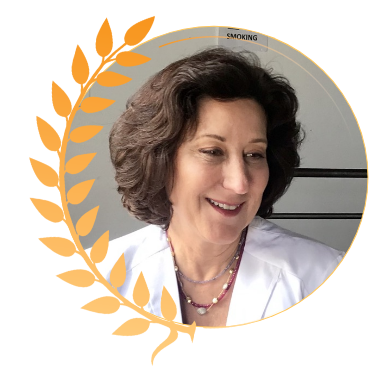 EDUCATION
Hope S. Rugo, MD, FASCO
University of California San Francisco Helen Diller Family Comprehensive Cancer Center
Rugo is director of Breast Oncology and Clinical Trials Education and a professor of medicine at University of California San Francisco Helen Diller Family Comprehensive Cancer Center Center.
As an investigator, Dr Rugo was instrumental in the EMBRACA and ABRAZO studies into the efficacy of talazoparib (Talzenna), a PARP inhibitor that the FDA approved in 2018 for patients with HER2-negative locally advanced or metastatic breast with germline BRCA mutations.
She was a key investigator testing atezolizumab (Tecentriq) in the IMpassion130 trial, which led to the FDA's March 2019 approval of the immunotherapeutic agent in combination with nab-paclitaxel (Abraxane) for PD-L1–positive unresectable locally advanced or metastatic triple-negative breast cancer.
In the realm of supportive care, her work has resulted in approvals for scalp-cooling technology to reduce chemotherapy-induced alopecia and a steroid mouthwash to relieve stomatitis from targeted therapy.
She is the cochair of the Triple Negative Working Group and the principal investigator for several Translational Breast Cancer Research Consortium trials, including a multicenter immunotherapy trial funded by the Breast Cancer Research Foundation.
Rugo is a founding member of the Translational Breast Cancer Research Consortium and serves as an investigator in the UCSF Breast SPORE.
Back to 2020 Inductees
Home
)
SUPPORTED BY