Giants of Cancer Care® Program Inductees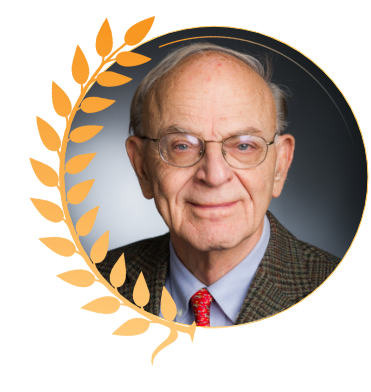 LYMPHOMA
George P. Canellos, MD
Dana-Farber Cancer Institute/Harvard Medical School Boston, MA
Canellos is a senior physician at Dana-Farber Cancer Institute and the Brigham and Women's Hospital and the inaugural William Rosenberg Professor of Medicine, Emeritus, at Harvard Medical School in Boston, Massachusetts. He previously served as Dana-Farber's founding chief of medical oncology (1975-1995), and as medical director for network development for Dana-Farber/Partners Cancer Care.
He is perhaps most known for his collaborations with Vincent T. DeVita Jr, MD, the 2013 Giants of Cancer Care® award winner in lymphoma. The pair developed the C-MOPP regimen for large-cell non-Hodgkin lymphoma and the CVP regimen to treat indolent forms of non-Hodgkin lymphoma. Canellos and DeVita also developed the CMF regimen, the first widely used combination therapy for breast cancer.
Canellos is the namesake for Dana-Farber's George Canellos Award for Excellence in Clinical Research and Patient Care and the George P. Canellos, MD, and Jean S. Canellos Professorship at Dana-Farber and Harvard.
Among the many awards he's won during his career are the Robert A. Kyle Lifetime Achievement Award from the International Myeloma Foundation (2016), the Karl Musshof Award from the 7th International Hodgkin Lymphoma Symposium (2007), the American Society of Clinical Oncology (ASCO) Statesman Award (2007), the Frank S. Moran Clinical Research Award (2006), the San Salvatore Foundation Award (2005), the Ellis Island Foundation Medal of Honor (2004), and the Key to the Cure Award from the Cure for Lymphoma Foundation (1999). He is an ASCO past president (1994), and the organization named him one of 50 ASCO Oncology Luminaries in 2016.
Back to 2020 Inductees
Home
)
SUPPORTED BY