Giants of Cancer Care® Program Inductees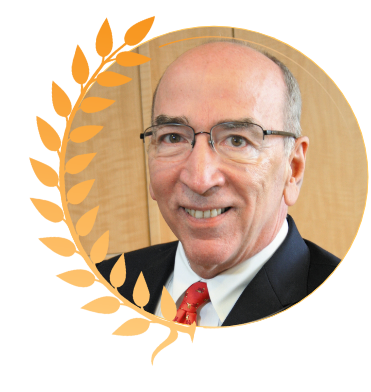 Gastrointestinal Cancer
Daniel G. Haller, MD
Abramson Cancer Center at the University of Pennsylvania Perelman School of Medicine
Haller is the cochair of the International Society of Gastrointestinal Oncology (ISGIO) Scientific Advisory Board.
He was lead author for the Intergroup 0089 trial, still the largest trial of an adjuvant treatment for patients with high-risk colon cancer, establishing the treatment regimen of fluorouracil (FU), leucovorin, and levamisole for high-risk stage II and III colon cancers.
Haller was coauthor on the Eastern Cooperative Oncology Group (ECOG) E7283 trial, which helped establish infusional 5-FU plus mitomycin C with radiation as the standard of care in anal cancer.
He previously served as ECOG Gastrointestinal (GI) Committee chair and cochair of the National Cancer Institute GI Intergroup and as president of ISGIO (2009-2010).
He held the inaugural Deenie Greitzer Gastrointestinal Medical Oncology Professorship, now the Deenie Greitzer and Daniel G. Haller Associate Professorship, at Perelman School of Medicine from 2015 to 2016.
Haller has been an editor for over 35 years. his work includes peer-reviewed journals such as Annals of Internal Medicine, Physician Data Query, and a 10-year term as editor in chief of the Journal of Clinical Oncology.
He is a 2017 recipient of The Ruesch Center for the Cure of Gastrointestinal Cancers at Georgetown Lombardi Comprehensive Cancer Center Luminary Awards in GI Cancers and the 2011 American Society of Clinical Oncology Special Recognition Award.
Back to 2021 Inductees
Home
)
SUPPORTED BY