Giants of Cancer Care® Program Inductees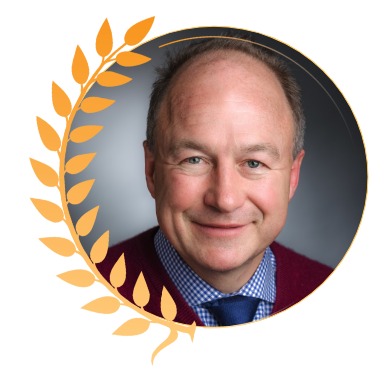 Myeloma
Paul G. Richardson, MD
Dana-Farber Cancer Institute/Jerome Lipper Multiple Myeloma Center
Richardson is the clinical program leader and director of clinical research at the Jerome Lipper Multiple Myeloma Center at Dana-Farber Cancer Institute and the RJ Corman Professor of Medicine at Harvard Medical School.
During a career that has spanned more than 25 years, Richardson has contributed to the development of 3 major classes of therapies that have transformed the treatment of patients with multiple myeloma.
He led or co-led the clinical development and study of the immunomodulatory drugs thalidomide (Thalomid), lenalidomide (Revlimid), and pomalidomide (Pomalyst); the. proteasome inhibitors bortezomib (Valcade) and ixazomob (Ninlardo); and monocolonal antibodies daratumumab (Darzalex) and elotuzumab (Empliciti).
Richardson's groundbreaking clinical work on lenalidomide helped pave the way for FDA approval of the drug in 2006. He was the principal investigator for the landmark SUMMIT trial of bortezomib in relapsed/refractory myeloma, which led the FDA to grant accelerated approval for the drug in just 3 years, and later led the APEX trial (NCT00048230), which resulted in the FDA granting full approval to bortezomib.
He also played a pivotal role in the phase 3 PANORAMA1 trial, which led to FDA approval of panobinostat (Farydak) combination with bortezomib and dexamethasone for patients with previously treated myeloma.
Back to 2021 Inductees
Home
)
SUPPORTED BY