Giants of Cancer Care® Program Inductees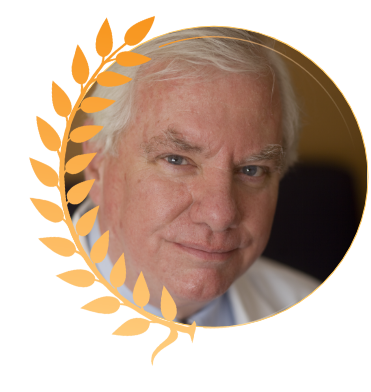 Pediatric Oncology
Richard J. O'Reilly, MD
Memorial Sloan Kettering Cancer Center
O'Reilly and his colleagues developed and introduced methods for removing T cells from a donor's transplant, allowing use of matched unrelated donors for bone marrow transplants and T-cell–depleted transplants from HLA half-matched donors without the risk of graft-vs-host disease.
He developed new immune cell therapies to manage other potential complications of transplantation, such as Epstein-Barr virus–associated lymphomas and cytomegalovirus infections.
In 1973, O'Reilly participated in the first transplant of bone marrow from an unrelated donor to a patient.
O'Reilly founded the clinical and preclinical research program at MSK and established a worldwide reputation for bone marrow transplantations in children with severe combined immune deficiencies and leukemias.
He serves as the Claire L. Tow Chair for Pediatric Oncology Research at MSK.
O'Reilly was the 2016 inaugural recipient of the Society of Memorial Sloan Kettering Prize, which honors individuals who have made outstanding contributions to the field of pediatric oncology.
He has been honored with several awards throughout his career including the Lauri Strauss Leukemia Foundation Timothy Gee Humanity in Medicine Award (2011), the Pediatric Blood and Marrow Transplant Consortium Lifetime Achievement Award (2011), the Society for Translational Oncology Pinedo Cancer Care Prize (2009), and the Leiden University Boerhaave Medal (2000).
Back to 2021 Inductees
Home
)
SUPPORTED BY