Giants of Cancer Care® Program Inductees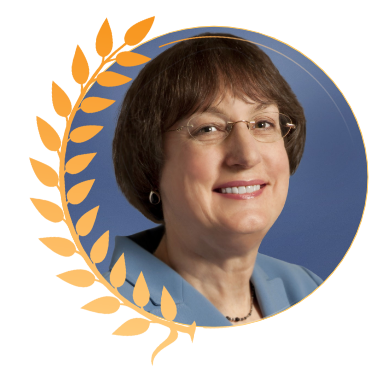 Breast Cancer
Nancy E. Davidson, MD
Fred Hutchinson Cancer Research Center/Seattle Cancer Care Alliance
Davidson was among the first investigators to elucidate the role of apoptosis in the response of human breast cancer cells to estrogen deprivation and certain cytotoxic chemotherapies, demonstrating that these therapies are both antiproliferative and proapoptotic.
Her research also demonstrated the feasibility of targeting the polyamine metabolic pathway in breast cancer cells, which inhibits proliferation, promotes apoptosis, and downregulates expression of critical molecules such as the estrogen receptor α protein.
Davidson has led clinical trials involving chemotherapy and endocrine-related therapies for treating premenopausal breast cancer and has increased the understanding of the potential of angiogenesis inhibitors such as bevacizumab (Avastin) for treating metastatic breast cancer.
She is senior vice president, director , and professor in the Clinical Research Division, as well as the Raisbeck Endowed Chair for Collaborative Research at Fred Hutchinson Cancer Research Center. Davidson also serves as head of the Department of Medicine at the University of Washington School of Medicine.
Davidson has won the American Society of Clinical Oncology (ASCO) Gianni Bonadonna Breast Cancer Award, ASCO Allen S. Lichter Visionary Leader Award and Lecture, National Cancer Institute Rosalind E. Franklin Award, Breast Cancer Research Foundation Jill Rose Award, and Pennsylvania Breast Cancer Coalition Potamkin Award, and she served as president of ASCO (2007-2008) and the American Association for Cancer Research (2015-2016).
Back to 2021 Inductees
Home
)
SUPPORTED BY