Giants of Cancer Care® Program Inductees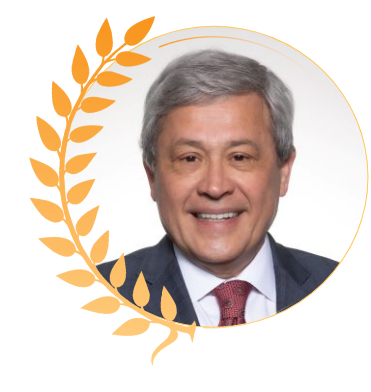 Breast Cancer
Carlos L. Arteaga, MD
UT Southwestern Medical Center/Harold C. Simmons Comprehensive Cancer Center
Arteaga is the Lisa K. Simmons Distinguished Chair in Comprehensive Oncology, a professor of medicine, and associate dean of Oncology Programs at UT Southwestern Medical Center. He also serves as director of the Harold C. Simmons Comprehensive Cancer Center.
Arteaga discovered the value of targeting TGF-β, which causes breast cancer to spread, metastasize, and develop resistance to chemotherapeutic drugs.
He was also among the first to report on cellular alterations that confer resistance to therapies targeted to the ERBB family of receptors, including HER2, which is known to be amplified in approximately 20% of all breast cancers.
Arteaga also participated in early studies which observed the synergistic effect of chemotherapy with anti-HER2 antibodies, contributing to the clinical development of trastuzumab (Herceptin) for the treatment of patients with HER2-overexpressing breast cancer.
He was also among the first investigators to observe that loss of tumor suppressor PTEN confers resistance to ERBB receptor–targeted therapies, such as EGFR tyrosine kinase inhibitors. Additionally, Arteaga helped contextualized the role of PI3K signaling on resistance to antiestrogens in breast cancer.
Back to 2022 Inductees
Home
)
SUPPORTED BY