Giants of Cancer Care® Program Inductees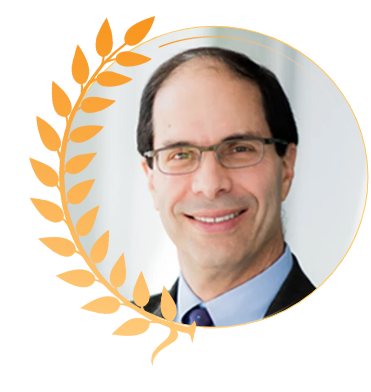 Genitourinary Cancers
Eric J. Small, MD
University of California, San Francisco (UCSF)
Small holds the Doris and Donald Fisher Distinguished Professorship in Clinical Cancer Research and the Stanford W. Ascherman and Norman R. Ascherman Endowed Chair at UCSF. He also serves as professor in residence of medicine and urology, deputy director and chief scientific officer, and coleader of the Prostate Cancer Program at the UCSF Helen Diller Family Comprehensive Cancer Center.
In 2007, Small and colleagues published data from the first-in-human testing of ipilimumab (Yervoy) for patients with hormone-refractory prostate cancer.
Small was part of the team investigating sipuleucel-T (Provenge) and led a phase 3 trial evaluating its efficacy in patients with metastatic, asymptomatic, hormone-refractory prostate cancer. The FDA approved sipuleucel-T for men with metastatic castration-resistant prostate cancer who had no or minimal symptoms in April 2010, making it the first therapeutic cancer vaccine to win agency approval.
He piloted the early trials targeting the androgen receptor in advanced prostate cancer and has played a key role in the development of the novel androgen signaling inhibitors abiraterone acetate (Zytiga) and apalutamide (Erleada) from first first-in-human studies to FDA approval.
Back to 2022 Inductees
Home
)
SUPPORTED BY