Giants of Cancer Care® Program Inductees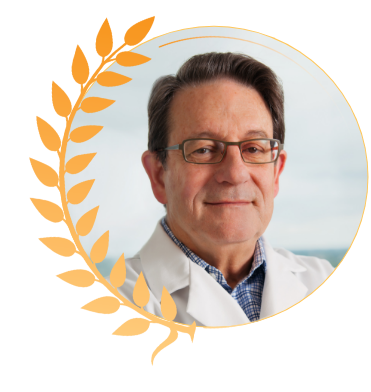 Leukemia
John DiPersio, MD, PhD
Alvin J. Siteman Cancer Center/Washington University School of Medicine
DiPersio is the Virginia E. and Sam J. Golman Professor in Medicine, chief of the Division of Oncology, director of the Center for Gene and Cellular Immunotherapy, and deputy director of the Alvin J. Siteman Cancer Center. He also serves as professor of medicine, pathology, and immunology at Washington University School of Medicine.
DiPersio is internationally known for his expertise in T-cell function and stem cell research, as well as his achievements in experimental sequencing of cancer genomes and innovations in stem cell transplantation. His current research focuses on graft-vs-host disease and developing novel therapeutics for patients with acute myeloid leukemia.
His research demonstrated that the hematopoietic stem cell mobilizer plerixafor (Mozobil) blocks the chemokine receptor CXCR4, which enables mobilization of leukemic cells to peripheral blood and sensitizes them to chemotherapy. The FDA approved plerixafor in combination with growth-colony stimulating factor for patients with non-Hodgkin lymphoma and multiple myeloma in 2008.
DiPersio was a co-author for the COMFORT-I series of trials evaluating ruxolitinib (Jakafi). The FDA approved the JAK inhibitor in 2011, the first agent approved to treat patients with intermediate-2/high-risk myelofibrosis.
Back to 2022 Inductees
Home
)
SUPPORTED BY