Giants of Cancer Care® Program Inductees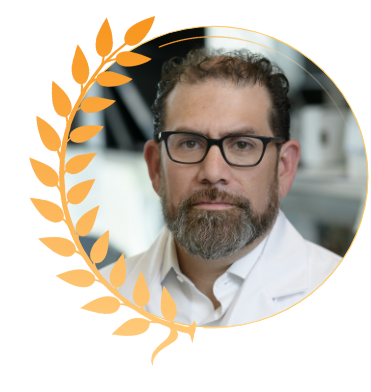 Translational Science
Luis Alberto Diaz Jr, MD
Memorial Sloan Kettering Cancer Center
Diaz is head of the Division of Solid Tumor Oncology and the Grayer Family Chair at Memorial Sloan Kettering Cancer Center. In 2021, President Joseph R. Biden appointed him to the 7-member National Cancer Advisory Board.
His landmark proof-of-principle study using the immunotherapy PD-1 blockade in patients with colorectal cancer whose tumors are mismatch repair–deficient showed dramatic responses in patients who had failed standard therapy, resulting in the paradigm-shifting FDA approval for pembrolizumab (Keytruda). Pembrolizumab was the first agent approved based on a genetic profile rather than the site of disease.
Diaz co-discovered the role KRAS mutations play as an acquired resistance mechanism to anti-EGFR antibodies in colorectal cancer.
He was a pioneer in providing the first definitive examples of circulating tumor DNA being successfully used as a biomarker for screening, monitoring, and detection of patients with an increased risk of recurrence.
He his colleagues developed the basis for a molecular Papanicolaou test to detect early-stage ovarian and endometrial cancers based on genetic markers.
Back to 2022 Inductees
Home
)
SUPPORTED BY